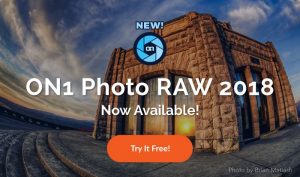 We've had the pre-order going for a while, with a very nice discount, but the ACTUAL release went live at the end of last week!
For those of you who purchased the pre-order, please visit the link provided with your purchase confirmation email to download the full release.
For those who HAVEN'T yet purchased, here's some of what you're missing:
Click HERE to download a Free Trial!
About ON1 Photo RAW 2018
ON1 Photo RAW 2018 includes the essential tools and features every photographer needs in their workflow. Our super fast, non-destructive, and state-of-the-art processing engine gives you an ultra smooth and efficient editing experience. ON1 Photo RAW is focused on allowing you to get the most out of every photo. Photographers now have a tool with fast photo management, hundreds of customizable photo effects, fast and beautiful HDR, panos, masking and selection tools, layers, and much more—in one app.
ON1 BENEFITS
• No subscription
• Own it forever
• Migration assistant
• Open cloud storage integration
• Hundreds of free training videos
• World-class service and support
Video Training
ON1 Photo RAW 2018 Overview: https://youtu.be/k6QWJaqwdNU
New Color Range Masks: https://youtu.be/OVAZo59TIRE
Mew Luminosity Mask Tools: https://youtu.be/v7ry-zRGqAk
HDR: https://youtu.be/BTymQgFCkh0
Pano: https://youtu.be/P6ahMfxGiHs
Paint With Color Brush: https://youtu.be/2DiuYS2UBbM
New Noise Adjustment Brush: https://youtu.be/KrM-e75OwSU
New Mask Blur Chisel: https://youtu.be/1T7ZL4vOFs4
Remove Haze from a Photo: https://youtu.be/vzz1ueLqTis
Offer Availability
ON1 Photo RAW 2018 will be available November 9th or 10th for download.